bbc.com
02 May, 2021 17:00 am
Lewis Hamilton wins Portuguese Grand Prix after spectacular overtakes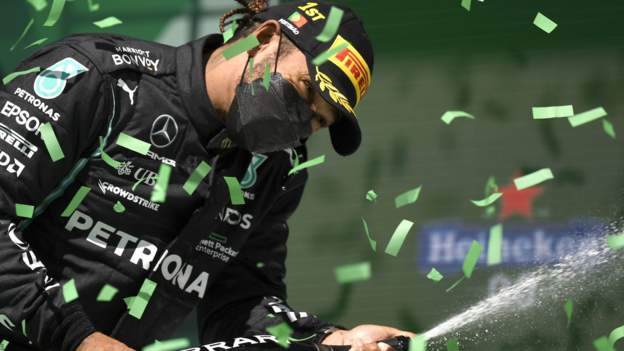 Lewis Hamilton fights back to pass both Valtteri Bottas and Max Verstappen to take a brilliant victory in the Portuguese Grand Prix.
The seven-time champion fell to third as Verstappen's Red Bull overtook him at a restart after an early safety car.At the end of lap 10, Verstappen had a slide on the exit of Turn 14, the effective final corner, and Hamilton grabbed his chance, closing on the Red Bull and repassing Verstappen.Red Bull brought Verstappen in first on lap 35, with Bottas following him in a lap later.Bottas dropped three seconds back from the Red Bull before coming back for a few laps, but then fell away again as the top three positions were sealed.
Sergio Perez took fourth for Red Bull, ahead of McLaren's Lando Norris and Ferrari's Charles Leclerc, who moved up from his disappointing eighth place on the grid partly thanks to his ability to start on the medium tyre because he was fast enough to make it through second qualifying on it.But he missed out on the point for fastest lap after both Verstappen and Bottas pitted for fresh tyres to chase it in the closing laps.