laois-nationalist.ie
14 Jan, 2022 19:00 am
Laois Nationalist — Dublin third year students announced as BT Young Scientist winners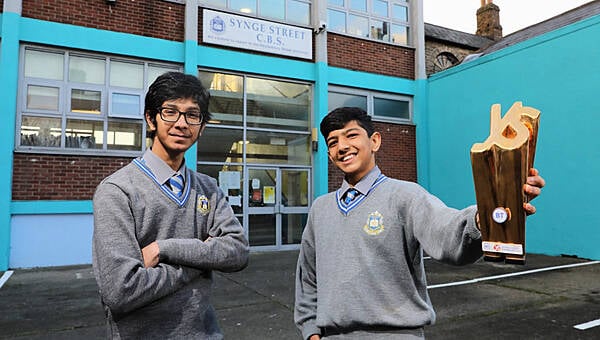 Aditya Joshi (15) and Aditya Kumar (16) claimed the top prize for their project on the Bernoulli quadrisection problem.
Home > National News > Dublin third year students announced as BT Young Scientist winners Friday, January 14, 2022 Muireann Duffy Two third year students from Dublin have been named as the overall winners of the 58th BT Young Scientist & Technology Exhibition."The calibre of entries is a testament to the tenacity and talent of the students behind them, and it is the constant high standard that makes the BT Young Scientist one of the longest running and most successful STEM events in Europe," she added. More National News Friday, 14/01/22 - 6:56pm Friday, 14/01/22 - 6:38pm Friday, 14/01/22 - 6:09pmAditya Joshi and Aditya Kumar (both 15) from Synge Street CBS claimed the top prize for their project: 'A New Method of Solving the Bernoulli Quadrisection Problem'.
com/cglrYszrNW — Department of Education (@Education_Ire) January 14, 2022 "The students presented a new approach to a problem that dates back to 1687, while also identifying areas of possible application in contemporary engineering," he added.In addition to the €7,500 prize, the pair will now also represent Ireland at the European Union Contest for Youn Scientist in September.